Cheyenne M
Comment
I just started using the product and I love them. Hands down best so far. I recommend them!


Liz Wilson
Comment
Hi,wow beautiful site now I can buy my favorites ! I just ordered another one of the goats milk soap bar and my husbands favorites the Bomb body butter plus the after play sports rub and of course last but certainly not least the incredidible headache stick !
Hmmm I have a feeling he likes that one best because of his wife :-)
Thank you so much and your awesome site. It is so easy to order and I appreciate being able to pick it up.That really saves me time and of course money.
God Bless you for making this all,I know you won't be seeing us at a drug store anytime soon !

Sincerely your favorite customer,
Liz
Name
Christine Milkovic
Comment
I think it's great!!! Good job ladies!!! =)

Name
Craig Wilson
Comment
I've used the soaps, creams and deodorant and I was very pleased with all of the products. Can't wait to purchase our next batch of great deals on quality goods.
Highly recommended!
Craig Wilson
Operations Superintendent, Vanterm
Terminal Systems Inc.
Powered by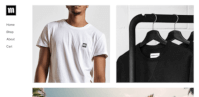 Create your own unique website with customizable templates.